The Locked Down Hair Stylist
Wow, the Coronavirus Covoid-19 has things getting crazy out here don't you think. I went to run my normal Monday errands today and boy oh boy was interesting. I have never seen anything like this in my 37 year of living. Seeing people in mask with gloves on and the overly crowded supermarket was enough to make anyone anxious. None the less I have faith, hope and I am taking the optimistic approach to this time.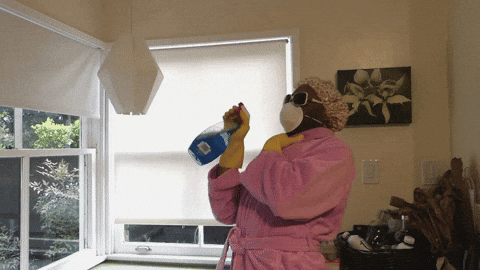 As of today Monday, March 16th, 2020 I still plan on opening Beauty for Ashes Salon this week. However with local and national guidelines changing from week to week, day to day, hour by hour, and now what seems like minute by minute, I must keep you in the loop with other options. The reality is me touching my clients doesn't fall under the social distance rule. It's obvious that I need to be closer than 6 feet in order to do a clients hair. So with that being said. Let me make some suggestions about what you can do if you are one of my clients or not.
My clients know I preach to them about knowing how to at least do the basics for their own hair. That would include a simple basic shampoo and condition and a set. Now that set can be a Wash and Go or a Braid/Twist-In or Braid/Twist-Out. Trust me there are quite a few who have no interest in knowing how to do their own hair at all. While that might be true for them, I know a lot more of you would like to know and learn how to.
The reality is if the law prohibits that salons close, I will have to obey the law. The great thing is I will be available to take more clients digitally. That will give me the opportunity to officially launch Beauty for Ashes Digital Salon. The Digital Salon will be open for private or Group Consultations and Live Demos. Teaching you how to do your own natural hair at home. You will also be able to purchase hair products. The only difference is they will have to be shipped to you.
You may be wondering why a professional hairstylist would show their clients their secrets. Well, the truth is, I believe that shampoo and conditioning your hair with a simple style is basic hygiene. Everyone should at least be able to do that, and I would like to be able to help. The reality is you may not be able to get it exactly the way that I would do it in the salon. I believe with consistency you will be able to get it done and look amazing. It's a good tool to have under your belt.
You are probably thinking well if I get locked down the last thing that I will be thinking about is doing my hair. My response is there is nothing more relaxing than wetting your head under a shower to relieve some stress, but after the relaxation is over you will have to know how to style those tresses. This is where being a digital client comes in handy.
Literally you get a personalized step by step session with me. Whether consult or demo, I've gotcha. So if the Country mandates that I physically close my doors, my digital doors will be swinging right open.
So if you are my client don't worry we've got this together. If not and you would like to become one I've got you too. Also If you are a stylist reading this blog you may want to consider doing the same. Taking some clients digitally. Start to prepare yourself because you never know what may happen if you become a "Locked Down Hair Stylist"
For more information about digital consultations, you can go to https://www.beautyforashessalon.org/services
#Coronavirus #Hairstylist #salonsclosing #smallbusinessclosing #digitalsalons #curlcoach #curclcoaching #curlconsultations #4chair #3bhair #3chair #Naturalhair